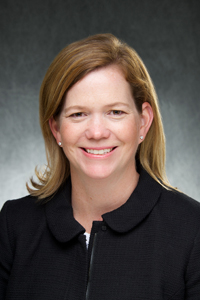 Clinical Associate Professor of Urology
Contact Information
Office
3251 Carver Pavilion (RCP)
Iowa City, IA 52242
319-356-2421
Education
BS, Saint Mary's College
MD, University of Iowa Carver College of Mediicne

Fellow, University of Texas Southwestern, Female Urology, Incontinence & Urodynamics
Resident, State University of New York at Buffafo, Urology
Research Summary
Dr. Takacs' areas of research interest are in pelvic organ prolapse and female voiding dysfunction. Focus has been on use of a specific surgical technique, the Anterior Vaginal Wall Suspension, in support of the anterior vaginal wall for treatment of stress urinary incontinence and prolapse repair. This technique differs slightly from other approaches by consistently stabilizing the bladder neck. In addition focus has been on the use of a vestibular flap urethroplasty for women who develop recurring outlet obstruction.
Publications
Elmer-Lyon, C. G., Streit, J. A., Takacs, E., Ten Eyck, P. P. & Bradley, C. S. (In Press). UTI and Drug-Resistant UTI after Intradetrusor OnabotulinumtoxinA Injection versus Sacral Neuromodulation. International Urogynecology Journal.
Siegel, S., Kreder, K., Takacs, E., McNamara, R. & Kan, F. (2018). Prospective Randomized Feasibility Study Assessing the Effect of Cyclic Sacral Neuromodulation on Urinary Urge Incontinence in Women. Female pelvic medicine & reconstructive surgery, 24(4), 267-271. PMID: 28914707.
Matsumoto, E., Steinberg, R. L., Takacs, E. B., Carlson, J. R. & Longmire, M. H. (2017). Epididymo-orchitis complicated by testicular infarction presenting with scrotal pain. Consultant, 57(4).
Takacs, E. B., Kreder, K. J. (2016). Sacrocolpopexy: Surgical Technique, Outcomes, and Complications. Current urology reports, 17(12), 90. PMID: 27796653.
Aleem, S., Kumar, B., Fasano, M. B., Takacs, E. & Azar, A. E. (2016). Successful use of cyclosporine as treatment for eosinophilic cystitis: A case report. World Allergy Organization Journal, 9(1). DOI: 10.1186/s40413-016-0113-4.
Sharp, V. J., Takacs, E. B. & Powell, C. R. (2010). Prostatitis: diagnosis and treatment. American family physician, 82(4), 397-406. PMID: 20704171.
Sharp, V. J., Takacs, E. B. & Powell, C. R. (2010). Prostatitis: Diagnosis and treatment. American Family Physician, 82(4), 397-406.
Guild, J., Takacs, E., Kircher, S., Arbique, G. & Zimmern, P. E. (2009). The number of voiding radiographs during cystourethrography in women with stress incontinence or prolapse can be reduced to enhance safety without compromising study interpretation. Neurourology and Urodynamics, 28(5), 385-389. DOI: 10.1002/nau.20678.
Takacs, E., Zimmern, P. E. (2008). Role of Needle Suspensions. In Female Urology. pp. 362-374. DOI: 10.1016/B978-1-4160-2339-5.50081-1.
Takacs, E. B., Kobashi, K. C. (2008). Minimally invasive treatment of stress urinary incontinence and vaginal prolapse. The Urologic clinics of North America, 35(3), 467-76, ix. PMID: 18761200.
Takacs, E. B. (2007). The potential use of cytokines and stem cell homing signals in the treatment of stress urinary incontinence. (Vols. 177). (4), pp. 1227-8. The Journal of urology. PMID: 17382695.
Grant, J. F., Iwasawa, T., Sinn, H. W., Siemens, D. R., Griffith, T. S., Takacs, E. B. & Ratliff, T. L. (2006). Induction of protective immunity to RM-1 prostate cancer cells with ALVAC-IL-2/IL-12/TNF-alpha combination therapy. International journal of cancer, 119(11), 2632-41. PMID: 16991124.
Takacs, E. B., Zimmern, P. E. (2006). Recommendations for urodynamic assessment in the evaluation of women with stress urinary incontinence. Nature clinical practice. Urology, 3(10), 544-50. PMID: 17031379.