AAFP recognizes UI Family Medicine Interest Group with 2021 Program of Excellence Award
Date: Wednesday, August 18, 2021
Carver College of Medicine exceeds national family medicine match results for past 25 years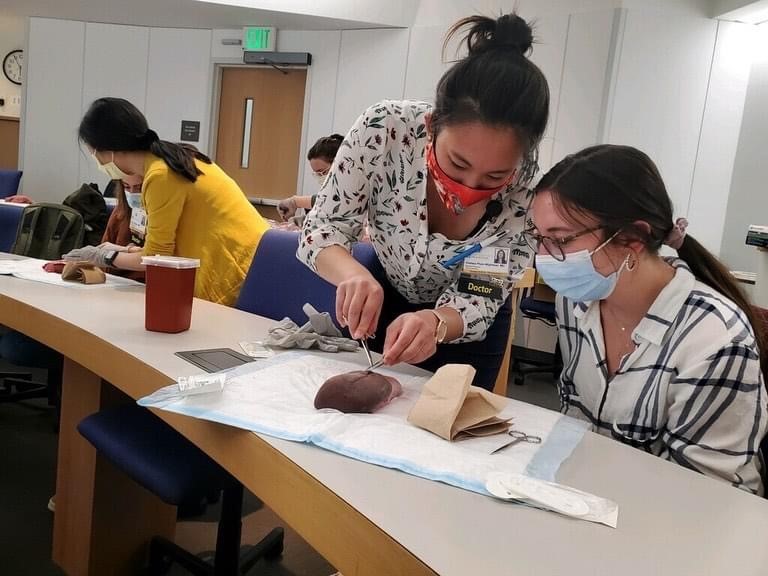 With massive physician shortages projected in the next 10 years in Iowa and across the country, it's important for academic medical centers to actively work to build the pipeline of medical students pursuing in-demand specialties. Family medicine is one such area of critical need; the Association for Academic Medicine Colleges is projecting a shortage of up to  55,200 primary care physicians by 2033, according to a report published in June 2020.
That's where the University of Iowa Carver College of Medicine's Family Medicine Interest Group (FMIG) comes into play. The student-led group works to expand medical students' understanding of and interest in family medicine. For the past 30 years, UI FMIG has been recognized by the American Academy of Family Physicians (AAFP) for doing this job extraordinarily well.
This year, UI FMIG's exemplary efforts at generating interest in family medicine have once again been recognized. The group is among seven FMIGs nationwide to receive AAFP's 2021 Program of Excellence Overall Award.
We're very proud that the UI FMIG has once again been named an AAFP Program of Excellence. A strong FMIG may be one reason our family medicine residency match rates have consistently exceeded the national average for the past 25 years.
To win a Program of Excellence Award, UI FMIG had to demonstrate that it is well-rounded with competency in a number of key areas, including:
FMIG structure and operation
Community service
Exposing students to family medicine and family physicians
Promoting the value of family medicine as primary care
Professional development
Measures of success
Many of the activities that FMIG sponsors, such as the Topics in Family Medicine Lunch Series, had to be adapted to a virtual format this past year due to COVID-19. In some cases, this presented new opportunities; for example, hosting Speed Dating Careers in Family Medicine via a Zoom format allowed UI FMIG to collaborate with Des Moines University's FMIG and recruit speakers from across the state.
Anna Wilcox, former co-president of UI FMIG and third-year medical student in the Carver College of Medicine, says she took on a leadership role with FMIG because she wanted to help these events continue.
"FMIG highlights the diversity of family medicine and its importance as a specialty," says Wilcox. "There is a continued need for more family medicine physicians in the state and country, and through FMIG we can hopefully inspire more students to consider pursuing family medicine in the future."  
In 2021, 14% of Carver College of Medicine students matched to family medicine residency programs, compared to the national average of 8.8% for allopathic medical schools. Although a higher percentage of Carver College of Medicine students are choosing to pursue family medicine than at other medical schools, there is still work to be done to meet Iowa's projected needs for family medicine physicians in the next decade.