First-year medical student Joseph McDonell is ready for a challenge
Date: Tuesday, August 10, 2021
After more than a decade's delay, Joseph McDonell is ready to become a doctor.
The incoming UI Carver College of Medicine student has known he wanted to go into medicine since childhood. He owes his ambition to the health care providers in his small hometown of Coggon, Iowa, McDonell says, who cared for his whole family when his mother suffered from severe depression.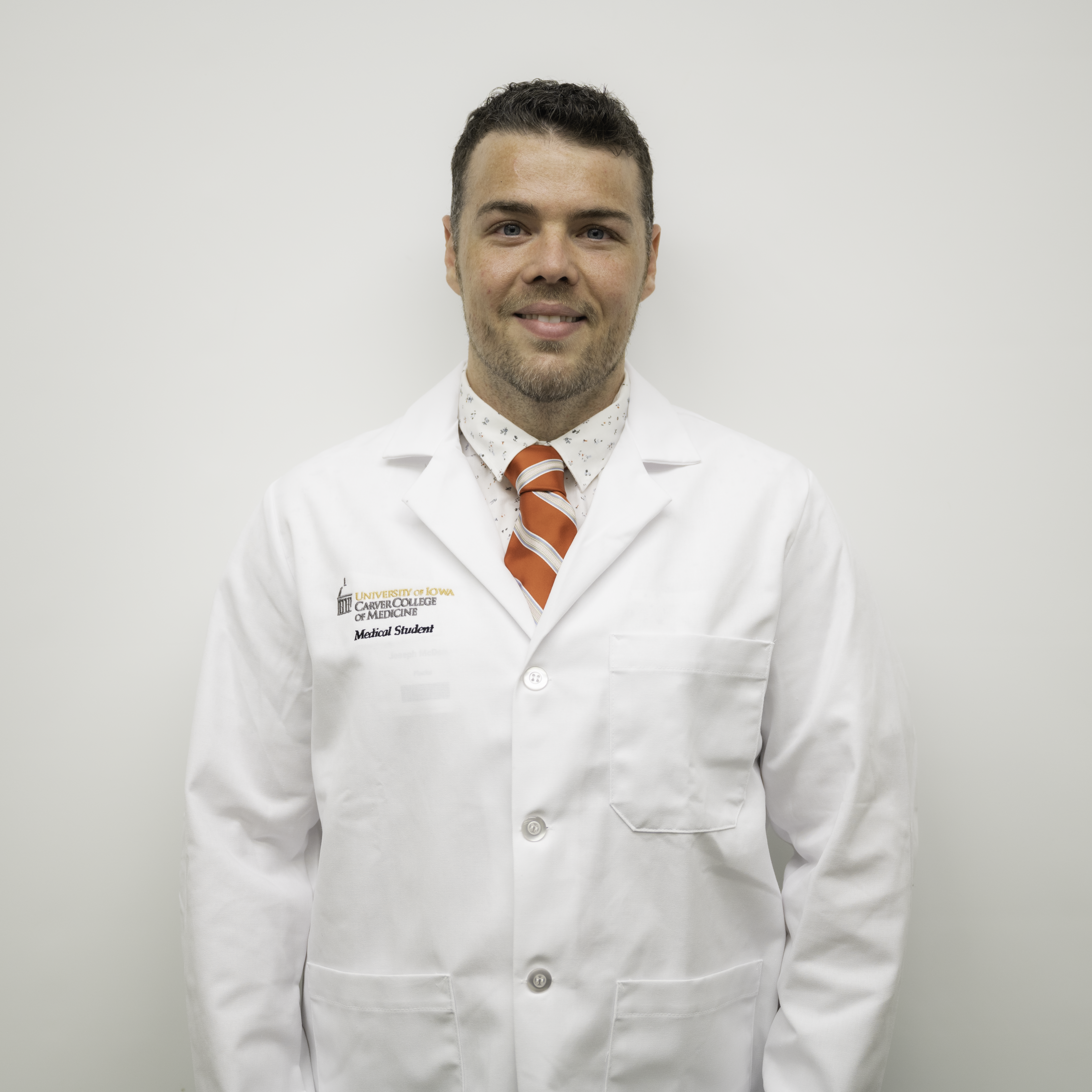 "I had local doctors that really assisted and went above and beyond the typical call of their duty," he says. "We were pretty poor, so one time we were trying to find a schoolbag, and the local physician helped us get one so that we had stuff to go to school with. That really spoke to me. I would love to be that person one day."
The 35-year-old chose to push back his pursuit of higher education so that he could help his mom, and didn't go to college until he was 29 years old. He worked as a heavy equipment operator in the interim and had two children of his own: Eli, 7, and Tommy, 5.
"As part of construction, I started out just digging ditches, and that wasn't enough—I needed more," he says. "So, then I eventually moved up to running a backhoe and then a crane, and then once my life was kind of stable and I'd saved up some cash for college, I was like 'Alright, I'm ready for the next challenge.'"
His desire to provide the same level of medical care that his family received when he was a kid has not changed, McDonell says. He immediately fell in love with anatomy and physiology when pursuing his associate's degree at Kirkwood Community College, and his professor there would even write "Dr. McDonell" on his tests to keep him motivated.
He has since earned his bachelor's and master's degrees.
"So, I took that dive, and I've completely immersed myself into trying to be similar to those health care providers from my childhood," McDonell says.
He currently conducts neonatal research in a UI lab, McDonell says, where he also helped develop a device to aid patients with chronic obstructive pulmonary disease (COPD). He also studies how telehealth services may be expanded to better serve rural towns like the one he grew up in.
Learning more about what he loves in medicine has been especially exciting now that he gets to pass on his knowledge to Eli and Tommy, McDonell says.
"I was always curious about science, so it's been fun to now be able to teach my children about it and open the doors if they want to be future scientists," he says. "I think it's just cool to have this new dimension in my children's lives that I had to wait 29 years to see. So, maybe they can get it a little earlier."
Ultimately, McDonell wants to become a neonatal intensivist. Medical school is the next step to achieving that goal, and McDonell says he was so excited to be accepted to Carver that he drove to his parents' house to tell them in person and in front of his kids.
"I'm a very positive person, so I like this added rigor in my life," he says. "Before, especially when I was digging with a shovel, I felt like there was more to my life and that I could do more. I feel like I'm going down a path where I could really unlock my potential to help people."
Balancing his classes with parenting and other responsibilities won't be easy, but McDonell is confident he can rise to the challenge and grow from the experience—and he can always look back on his days as a construction worker for motivation.
"There were times it was negative 50 degrees outside, and my gloves were frozen to my hands," he says. "And if I can do that, I think I can do this. It's stressful at times thinking about how I'm going to sort out all these variables—what time is class going to end so I can pick up Eli on time from school and stuff—but I think just falling back on those past situations helps me understand that I can do more."