Ksiazek, Stalter, Willging win 2022 creative writing contest
Date: Tuesday, November 1, 2022
Winners of the 2022 Carver College of Medicine Creative Writing Contest have been chosen following a double-blind selection process.
The recipients were selected from two separate competitions: a poetry contest for students in the MD, PA (physician assistant), and PT (physical therapy) programs, and a poetry and short fiction contest for the college's faculty, resident physicians, fellow physicians, and postdoctoral scholars.
Three students were chosen for their poetry submissions and read their poems at the college's annual Student Scholarship Luncheon on Oct. 28.
Pictured clockwise from top left: Elliot Stalter; Brooks Jackson, MD, MBA; Abbygale Willging; Ethan Ksiazek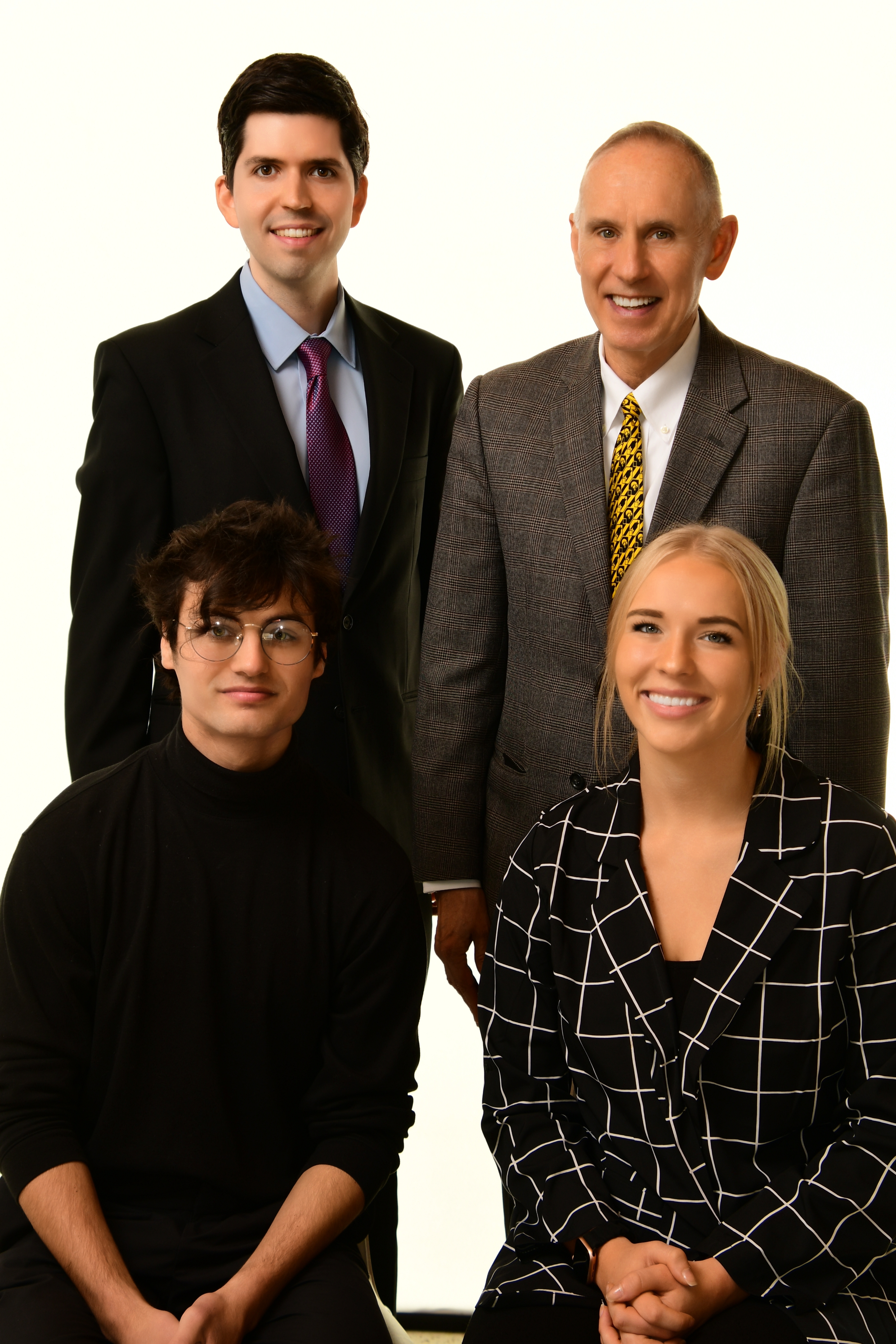 First place: Ethan Ksiazek, second-year physician assistant student
arclet
although she was empty
she tended to my cat well
she taped up his little paws so that
when he walked it looked like he was
shaking maracas
mornings weren't so sardonic
she painted them salmon
doily grandmother blankets left my
feet frozen but my cat slept amazing
she talked to kids in her 'birthday voice'
and taught my about the pituitary
how it makes the body feel good
how it could get too excited and
outgrow its blood supply
even though she lost her glow
she still fills this space
her dead skin cells jettisoned
now baring winter's graven relevance
I too am empty
but I tend to this place well
it's been a thousand years since
and you have still left me
without articulation
Second place: Elliot Stalter, second-year medical student
May Day
When I was told that you had died,
I wailed and wept, and crept, and cried;
You lived for but a single day – 
a mayfly in the month of May.
But with your death you also shed
the pains of life that spare the dead,
who though in darkness spend their days,
are shaded from the sun's harsh rays:
You died before I heard you talk,
and never learned to crawl or walk;
But nor will you be cursed or maimed
by others from whom death refrained.
And though the lark you shall not see,
nor will you disappointed be
to someday hear its plaintive cry,
and find its fractured eggs nearby.
Although you'll to all these be numb,
the greatest grace is yet to come;
For never will your heart be robbed
of the child you might have loved.
Third place: Abbygale Willging, second-year medical student
Aislamiento
A translation built around its root –
"Isle"
Granted, medicine is the remote isle of my dreams.
Next week's adventure may be trying,
And all the more worthwhile.
How lucky am I?
While I vigorously prepare,
bottles pile up on shore,
distant messages of family crisis,
friends begging for a moment of advice.
What insight can I possibly offer?
I can't even unravel the brachial plexus!
My friends, my family, they can wait.
My cadaver, though,
surely won't delay decay.
Eventually, I'll voyage home to confront the upheaval.
Only to discover the crisis long averted,
my friends expertly navigating the next stages of life.
So I find,
No one waited for me after all.
Returning solemnly to my isle,
I ponder:
How is it that in choosing this career –
so nobly rooted in humanity –
I've isolated myself from it?