Match Day 2023: Meet Stephanie Saey
Date: Friday, March 10, 2023
Stephanie Saey is from Galesburg, Illinois. She hopes to match in internal medicine on Friday, March 17.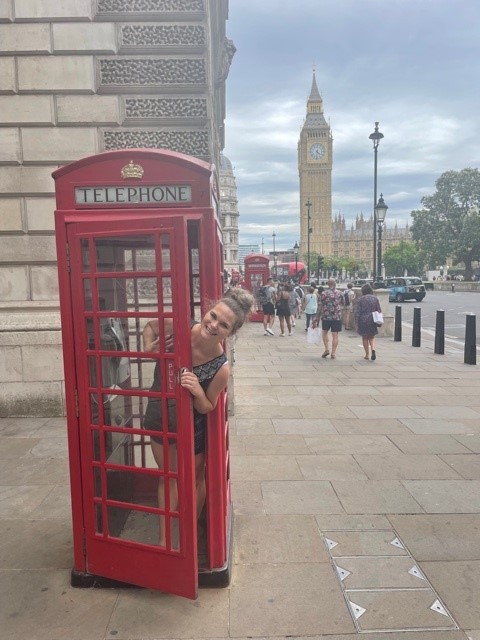 What made you want to be a physician?
I began my undergraduate career with a double major in mathematics and biology, with hopes of bridging the gaps between the disciplines. The opportunities for my future seemed endless at the time; I had just graduated as valedictorian of my high school class and would be participating as a Division I Cross Country/Track and Field athlete. Despite living the life I had always dreamed of, I was suffering inside and eventually unenrolled during my first semester at college to seek professional mental health treatment in an inpatient setting.  
I feel extremely fortunate to have received life-saving mental health care that remains relatively inaccessible nationwide. Though my history of mental illness doesn't define me, it established the foundation for my initial interest in health care, and to this day, it inspires me to humanize my practice and to utilize my talents in pursuit of service.  
During my senior year of college, I decided to pursue an MD rather than a PhD in neuroscience because I wanted to be able to prescribe medications to patients with mental illness. My goal then was to be a psychiatrist, but when I got to medical school, I really fell in love with physiology, and eventually I changed my path to internal medicine.
What academic or extracurricular experiences most shaped your time in medical school?
I did a lot of research in medical school, which for me included hopping around to different labs because I wasn't sure what I wanted to go into. I responded to different emails asking for help with projects, so I ended up working in a psychiatry lab, a pediatric cardiology lab, and with surgical oncology. My most significant research project was in pediatric hematology, where I worked with a population of patients diagnosed with von Willebrand's disease, the most common bleeding disorder in the United States. I was able to publish a paper and go overseas to London to do a presentation, which was super cool. 
I have also been a peer tutor for multiple classes within the preclinical curriculum; tutoring undoubtedly was my favorite extracurricular activity. It was a great way to meet students in the classes below me and connect with them. 
What is your fondest memory of medical school?
Definitely the privilege of growing alongside some amazing people. At the start of med school, when you're getting to know everyone, there's an uncertainty of what's ahead. I remember meeting my classmates and thinking, "Wow, I could be looking at the next world-renowned surgical oncologist or the geriatrician who will care for my parents." I get so sentimental imagining everyone going off and spreading their wings. I am certain my classmates will do amazing things in their careers, and I am really proud to have trained with them.
What drew you to the specialty of internal medicine?
As a clerkship student, I enjoyed nearly everything. I found myself unable to "give up" any organ system, so to speak. I looked towards mentors I admired most and realized most of them were internists. Internal medicine is challenging, but the challenge is why I am drawn to it. I love figuring out the "why" behind everything. 
I'm looking to match at an academic medical center because of my interest in medical education and research. I have a lot of options right now, and I feel very blessed and lucky, but I definitely think that's also a testament to the training I've received here.