Johnna Allison's experience with cystic fibrosis (CF) has been dramatically different from her mother's, beginning with the diagnosis. Allison was 43 when her CF was confirmed in 2008. Her mother was 10 when she and three siblings were diagnosed. "The doctors pretty much told [my grandparents] to take them home and love them because they would not live very long," recalls Allison, of Rock Island, Illinois. But her mother, Catherine "Kay" VanThournout, was a unique case who defied the odds and forecast the possibilities of living longer with CF. Through her enthusiastic participation in research studies at the University of Iowa, she also played a key role in the advances that have improved outcomes for many current CF patients—including her own daughter.
Four of six children diagnosed
The prediction that four of his six children would not live long with CF was unacceptable to VanThournout's father, Ted Henseler. He became a respiratory therapist and developed a breathing machine to help keep his children's lungs moist to reduce the thick, sticky mucus caused by the CF. He and his wife, Mary, who lived in Rock Island, were active in fundraising for CF research and helped to arrange access to medical equipment for local families affected by CF. He was the first president of what was then known as the Iowa-Illinois Quint Cities chapter of the Cystic Fibrosis Research Foundation. Two of the Henseler children with CF died, at ages 2 and 15, but VanThournout and a brother lived long into adulthood. VanThournout had a family of her own and followed in her parents' footsteps, advocating for better care for people with CF. After she became a patient at UI Hospitals and Clinics, she participated in multiple clinical trials, including the very first human trials of gene therapy for CF.
After her death in 2001 at age 58, VanThournout's lung tissue was donated so the UI team could create vital cell models, which were used in early testing of the molecules that would ultimately become Kalydeco, a drug approved by the Food and Drug Administration in 2012 to treat certain forms of CF. These unique cell models are included in one of the nation's largest CF cell culture cores. Led by Joseph Zabner, MD, the core's dedicated experts develop and refine cell systems for CF researchers at the UI and around the world. "My mom knew [this research] was never going to help her, but she knew that maybe someday there would be answers for other cystic fibrosis patients," Allison says. Allison knew she was a carrier because she would have inherited one CF gene from her mother, but she did not develop obvious CF symptoms. It turned out the cystic fibrosis transmembrane conductance regulator (CFTR) gene she inherited from her dad also carried a CF-causing mutation, but a much less severe one.
---
"I feel the same way as my mom: One day these children and these parents won't have to deal with the severity of cystic fibrosis, hopefully. That's why we are driven to continue what my grandfather started."
---
Johnna Allison
---
A chance to 'punch back'
Over the last 30 to 40 years, Allison has witnessed significant advances in medical care that have steadily improved outcomes for most children with CF. When Paul McCray, MD, trained in pediatric pulmonary care in the mid-1980s, pediatricians cared for both children and adult patients with CF, but there were not that many adults. Today, adult CF patients outnumber pediatric patients with CF. "In the last 10 years, new therapies have come along and are gradually being implemented and having a big impact," McCray says. "We're seeing life expectancy go from the 20s to now up in the 40s. And we're doing everything we can to keep kids healthy, so that as we transfer care from pediatrics to internal medicine, people are really having opportunities to live longer." Recently, Allison learned she was eligible for Kalydeco, the drug that was first tested in her mother's cells. Kalydeco restores CFTR's vital ion channel function. Following the drug's initial approval for one subset of CF patients, additional clinical trials have shown the drug can be helpful for a broader range of CF patients with different CF mutations, including people like Allison. "When they said that I was eligible to be on Kalydeco, it was the first time that I thought, 'We can kick this in the butt.' Maybe this is our little punch back," Allison says. "I'm excited to be a part of it." 
By Jennifer Brown
View other features on cystic fibrosis research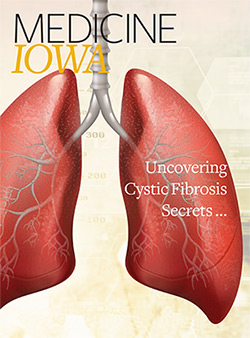 Featured in Medicine Iowa Spring 2018
You're reading one of the features included in the Spring 2018 issue of Medicine Iowa. Read more news and features about the people and programs focused on teaching, healing, and research in the UI Roy J. and Lucille A. Carver College of Medicine.