If you think June and July are quiet times on the Carver College of Medicine campus, think again. The college's summer programs attract hundreds of students and researchers from around the country to be taught by and to collaborate with its faculty.
Some, like the FUTURE in Biomedicine program, have been around for more than a decade, while others, like the Summer Health Professions Education Program, are just getting a campus foothold. Here are the highlights.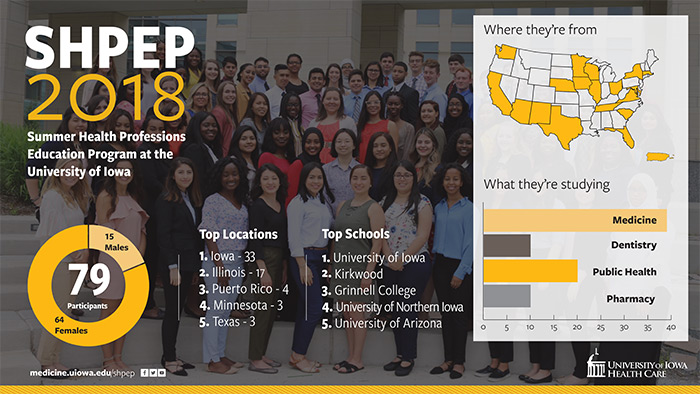 Summer Health Professions Education Program
The university's Summer Health Professions Education Program (SHPEP) provides a free, six-week summer program for underrepresented undergraduate students who are interested in pursuing careers in health care. In 2016 the university received a $415,000 grant from the Robert Wood Johnson Foundation to help fund the program, then received a renewal for $330,000 in 2017. Iowa is one of only 13 universities nationally to have a SHPEP program.
SHPEP aims to improve access to information and resources for college students wanting to join the health professions. The goal is to strengthen the academic proficiency and career development of students who are underrepresented in health care, acquainting them with the opportunity and challenges of health professional training.
Early indications show the program has helped increase the number of underrepresented students who go into health care and in turn practice among underserved populations.
SHPEP activities include:
Learning and study skills development, including methods of individual and group learning
Academic enrichment in the basic sciences and quantitative topics
Career development sessions directed toward exploration of the health professions, the admissions process, and the development of an individualized education plan
A health policy seminar series to expose scholars to a larger view of health care, health systems, and the social determinants of health
A financial literacy and planning workshop that informs students of financial concepts and strategies
SHPEP participants have the opportunity to shadow nurses, physicians, dentists, and pharmacists at University of Iowa Hospitals and Clinics and other locations. These in-depth experiences can help students learn about the opportunities available in the health care field and help them decide which field they are interested in pursuing for their career.
The program is exclusively for students who have completed their first or second year as undergraduates. Students come from all over the United States and a majority are from Iowa.
Directors from each college include:
See the full list of university staff participants.
More information on SHPEP and how to apply.
FUTURE in Biomedicine
The FUTURE in Biomedicine program opens University of Iowa laboratories to professors and their undergraduates from Iowa colleges that do not offer doctoral programs. Iowa college professors are invited to conduct a funded research project in the laboratory of a faculty member of the Carver College of Medicine during the summer.
After a competitive application process, the selected FUTURE fellows receive a stipend. In partnership with the FUTURE fellow's home institution, the FUTURE program supports an undergraduate student from the chosen professor's home institution. 
During their time at the University of Iowa Carver College of Medicine, FUTURE faculty fellows and undergraduate researchers gain extensive laboratory experience. This program gives them the opportunity to make connections and learn about new opportunities for further education and employment at the University of Iowa.
FUTURE is celebrating its 10th anniversary this year. Since its start in 2009, the FUTURE in Biomedicine program has supported:
48 fellows
20 senior fellows
Close to 60 students
Participants in the FUTURE program have:
Published more than 20 papers in peer-reviewed journals
Obtained multiple grants, including three from NSF and two from NIH
Sumitted one patent application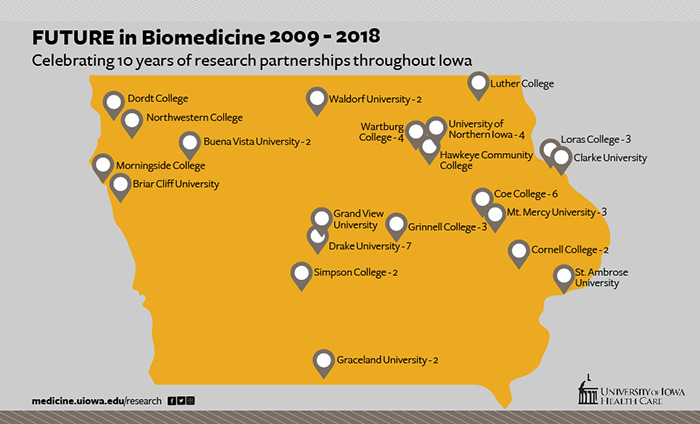 Over the years, FUTURE has had participants from 21 Iowa institutions of higher learning. Our 2018 participants come from Clarke University, Grand View University, Grinnell College, Loras College, Mt. Mercy University, Waldorf University, and Wartburg College.
Last year a participant from Coe College—Michael Leonardo, PhD, professor and chair of biology, and his UI faculty host Linda McCarter, PhD, professor of microbiology and immunology—worked on a project dealing with the cooperation and communication among bacteria: Vibrio Shewanella. Another senior fellow Adina Kilpatrick, PhD, assistant professor of physics at Drake University, and her UI faculty host Madeline Shea, PhD, professor of biochemistry and director of the FUTURE program, worked on a project dealing with calcium-mediated regulation of ion channels.
Learn more about FUTURE of Biomedicine events and programs.
Introduction to Medical Education at Iowa
Introduction to Medical Education at Iowa (IMEI) recognizes that a smooth transition from undergraduate studies to medical school enhances a student's medical school experiences.
Through IMEI, students scheduled to begin medical school at the college this fall will
be introduced to material in anatomy, genetics, metabolism, oxygenation, and clinical and professional skills, and medicine and society
receive an introduction to case-based learning and use this approach to solve clinical problems in small groups with faculty facilitators
practice adjusting their study skills, test-taking, time management strategies, and adjusting to medical school
receive an orientation to campus life and community resources
IMEI is open to all students admitted to this year's entering medical school class at the Carver College of Medicine. Enrollment in the program is limited.
Past participants credit the program for helping them during their first semesters of medical school:
"The greatest strength of IMEI is being able to get a good grasp on the material that will be covered in the fall. I learned how best to study and retain large amounts of information in a short amount of time. I also learned how to be flexible with my study strategies. Having TAs and professors readily available to help me understand the material I didn't completely get on first pass was a significant strength as well."
"IMEI has put me at ease about starting medical school. I have developed better study habits because I was given a chance to experiment with different studying styles and review techniques. IMEI also introduced me to other incoming M1's and I feel like I already have friends and study partners for the fall. I feel confident and excited to start medical school at Carver this fall thanks to IMEI."
Summer Research Fellowship Program
Summer research fellowships are open to students who began medical school last fall or will begin in August. The fellowships are part of the Iowa Medical Student Research Program and are designed to encourage students to explore their career possibilities in academic medicine.
The 12-week fellowship investigates a scientific question under the supervision of a faculty mentor. The chosen fellows become familiar with the many aspects needed to answer a scientific question such as:
Defining a problem
Formulating a hypothesis
Designing experiments
Interpreting data
The awarding of fellowships is a competitive process, and historically 80 to 90 percent of the proposals submitted are funded by the university. Fellows receive a stipend for the 12-week period.
The program is directed by Robert Roghair, MD. Roghair also runs the Research Distinction Track (RDT) and Medical Student Research Conference that occurs in September each year.