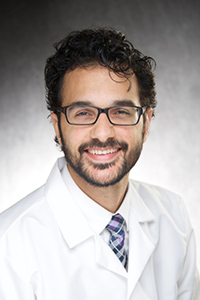 LGBTQ Clinic Physician
Healthy Kids Clinic Attending Physician
Clinical Assistant Professor of Family Medicine
Contact Information
Clinic
2313 Iowa River Landing (IRL)
920 East 2nd Ave
Coralville, IA 52241
319-467-2000
Education
BS, University of Toledo
MD, Universidad Internacional Del Ecuador, School of Medicine
Certificate, Medical Education, University of Iowa

Resident, Global Health Track, Indiana University Methodist Family Medicine, School of Medicine
Chief Resident, Residency, Indiana University Methodist Family Medicine, School of Medicine
Licensure and Certifications
Family Medicine Board Certification (ABFM) - American Board of Family Medicine
Publications
Abou-Arab, MD, E. (2021). Factors Contributing to Health Care Disparity. (Vols. 28). (1), pp. 3-7. Iowa City, iowa: EPSDT Care for Kids Newsletter.
Abou-Arab, E. (2020). Endocrinology. In M. A. Graber , B. E. Ray , J. K. Wilbur (Eds.) Graber and Wilbur's Family Medicine Examination and Board Review. (5th), pp. 296-329. New York City, New York/McGraw-Hill Education .
Abou-Arab, E., Pallikaras, G., Goyal, A. (2015). Proton pump inhibitors versus histamine-2 antagonists: Which is more effective in GI ulcer prophylaxis?. Evidence-Based Practice/Elsevier, 18(9), 14. PMID: 00132114-201509000-00016.