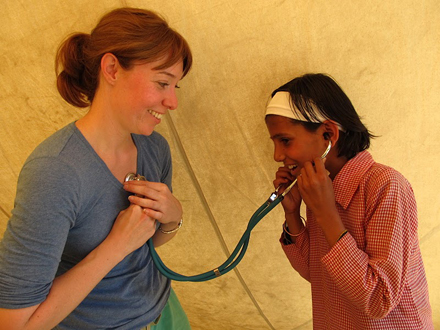 Global Health is a field of study which addresses the health of people and populations in a global context. It involves mutual teaching, research and healthcare provision that places a priority on improving health and achieving equity worldwide. It examines the social determinants of health, addressing disparities including infectious and non-communicable disease issues, human rights as well as economic development, and policy and system issues.
Medical students at the Carver College of Medicine have multiple ways to get involved with our Global Health Programs: two on-campus courses each semester, special speaker opportunities, community-based electives and clerkships, student organizations (Global Medicine Society and Student Physicians for Human Rights), campus wide, national and international conference involvement, academic exchanges, joint degrees, internships and fellowships, medical Spanish and French program, and Global Health Distinction Track.
Our global programs involvement has stretched us from our home city across the world. A sample of our activities from the past twelve months include:
our summer and winter global health book discussion groups for all medical students;
our Global Medicine Society and Global Health Journal Club, in addition to the Student Physicians for Human Rights student organizations;
special speakers have included:

Dr. Paul Farmer on Partners in Health and Harvard University on Global Health and Human Rights,
Dr. John Lawrence (President on the Board of Directors for MSF-USA) on MSF recent endeavors,
Dr. Selma Jeronimo, Director of the Institute of Tropical Medicine in Rio Grande do Norte and Professor at the Federal University of Rio Grande do Norte in Natal, Brazil,
Mrs. Paula and Dr. Denny Lofstrum of International Health Partners on the first pediatric hospital in Tanzania,
Dr. Bala Subramaniam, founder and President of the Swami Vivekananda Youth Movement in India on comprehensive determinants of health;

student-driven initiatives concerning refugee health;
six MD graduates with Global Health Distinction in the class of 2016 with work ranging from surgical priorities in low income nations, challenges in chronic disease management, global cervical cancer rates and intervention, and barriers in access to care;
20 rising second-year medical students pursed global health community-based work during the summer of 2016 in diverse sites in the US, Dominican Republic, Guatemala, Haiti, Ecuador, Brazil, Niger, Peru, South Africa, Tanzania, Timor-Leste and Uganda, as well as 24 final-year students in the communities above plus England, Romania, Sweden, Mexico, Honduras, India, Nepal and Papua New Guinea;
attendance and presentations at local, regional, national, and international conferences;
new scholarship partners for medical students pursuing global health projects;
and more!
For more details on our work, read our Director's new blog at http://medcom.uiowa.edu/globalprograms/.
To explore how you can be involved, contact the Carver College of Medicine Global Health Programs office.