Student Spotlight Destinee Gwee
Date: Friday, March 12, 2021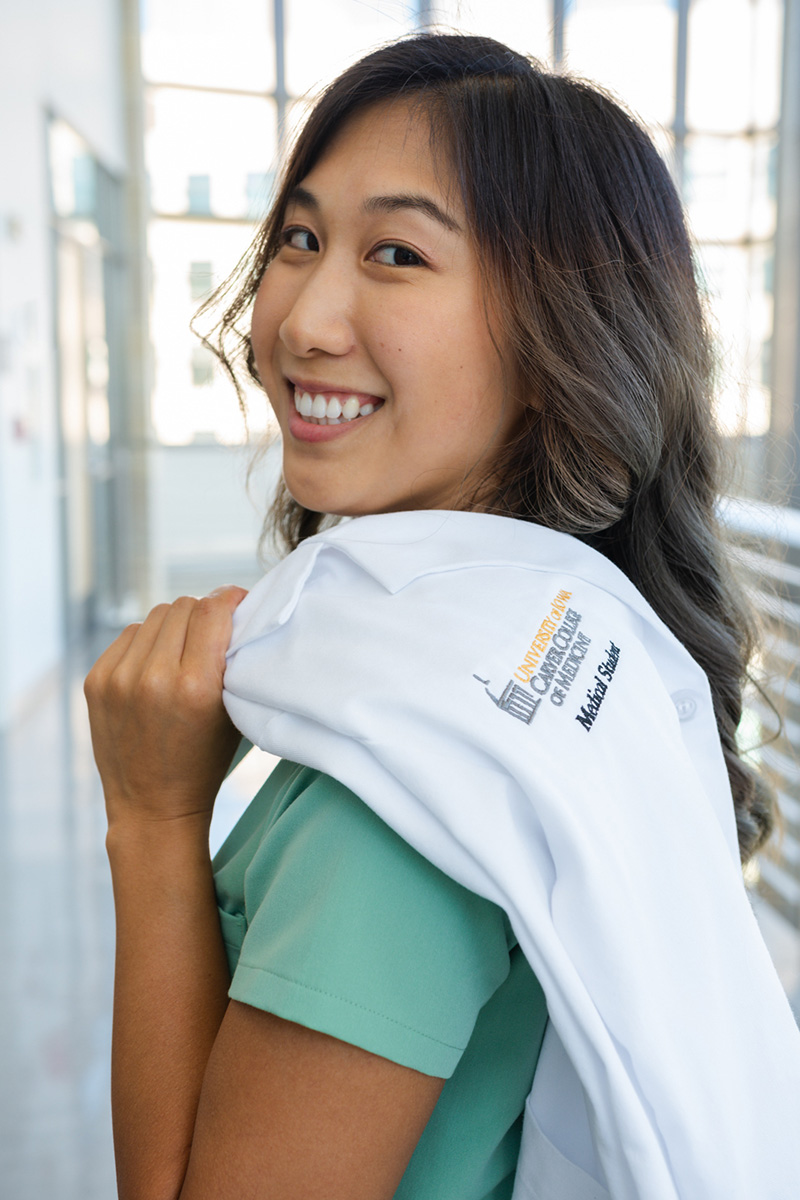 Destinee Soubannarath Gwee, fourth-year medical student in the Carver College of Medicine, has been described as the type of physician who will "run toward the fire" when it comes to challenging situations.
During her clinical rotations, she realized her ability to work under stress is perfectly suited for emergency medicine.
What drew you to emergency medicine as a specialty?
It was an unclear path—I came into medical school very interested in a lot of things. Ultimately, it was the people that drew me to emergency medicine once I did my emergency medicine rotation. I feel like there's something really special about emergency medicine physicians. When things get hard, they can immediately "turn on" and focus.
I also enjoy the fact that in emergency medicine, we see all patients, regardless of whether or not they have insurance or can pay. And that's something that's important to me—I'm really interested in the social aspects of medicine. In emergency medicine, you can't avoid dealing with those social factors, so that's another reason why I really like EM.
What experiences while in medical school influenced your decision to pursue this specialty?
I was just talking to Billie Ruden, MAed, MME, who works in CCOM, and she said, "Destinee, you're a person that runs toward the fire. That's why it makes sense you're going into emergency medicine." Just in general, when there are difficult things, I tend to be drawn towards figuring out how to fix it, rather than avoiding it. That conversation happened after I had already chosen emergency medicine, but it solidified that I was making the right choice.
Do you have any mentors that have been helpful in guiding you?
Denise Martinez, MD, has been amazing. She's in family medicine, but she's also associate dean for diversity, equity, and inclusion. She has guided me throughout medical school and validated me when I've had tough experiences.
Also, Daniel Runde, MD, MME, in emergency medicine has been my faculty advisor. Throughout this whole application season and throughout interviews, I will randomly email him for advice, and he's always open to responding. I know he has a super busy life, so I appreciate that, as well.
There are so many more mentors to thank, including Cate Dicharry, MFA, and Michael Haugsdal, MD.
How did COVID-19 impact your last year of medical school? How did you overcome these challenges?
For emergency medicine, we're supposed to do a couple of away rotations. I had already scheduled to do an away rotation in San Diego in April, and then was planning to do one on the East Coast later on. That was canceled once all the students got pulled out of rotations.
I think that in some ways it gave me a lot more time to think. Especially as the Black Lives Matter Movement started ramping up this summer, I could reflect on what was important to me. I probably wouldn't have had that time if I were on full-time rotation.
I tried to appreciate this extra time and spent a lot of it with my family, especially my grandmother. I was also able to spend virtual interview season with my mom, which wouldn't have been possible normally.
Can you share any long-term goals that you have for your career in medicine?
I'm really interested in this idea of social medicine and how societal factors play into people's health. So, I would love to continue to explore how I can advocate for better social medicine, whether that's through advocacy, policy, or outreach.
I also really enjoy working with learners and in education. At some point, I would love to be in academic medicine or mentor future health care providers in some capacity.