UI physician assistant program ranked number one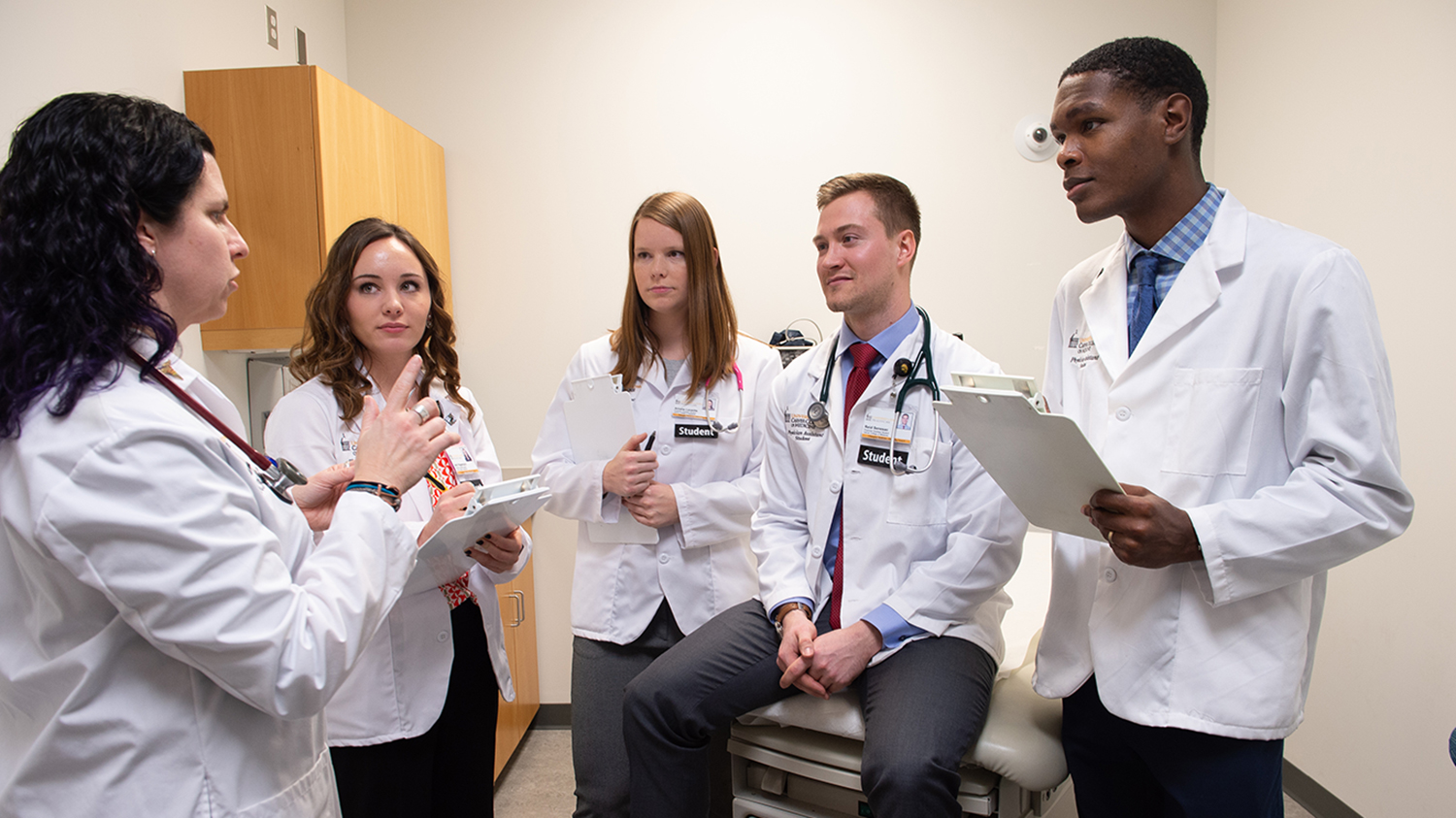 Date: Tuesday, March 12, 2019
6 Carver College of Medicine programs nationally ranked
In its latest listing of "Best Graduate Schools," U.S. News & World Report ranks the physician assistant (PA) program in the University of Iowa Roy J. and Lucille A. Carver College of Medicine the No. 1 program in the country. 
For the 2020 edition of "Best Graduate Schools," U.S. News ranks the UI Carver College of Medicine in the following categories:
Physician Assistant: No. 1
Family Medicine: No. 19
Internal Medicine: No. 22
Primary Care: No. 26
Research: No. 38
In addition, the college's Department of Physical Therapy and Rehabilitation Science maintains its No. 6 ranking from 2016, the last year U.S. News ranked physical therapy (PT) programs.
The Department of Physician Assistant Studies and Services in the UI Carver College of Medicine tied for the No. 1 ranking with Duke University. The college also tied with other institutions in the U.S. News rankings for family medicine, internal medicine, primary care, and research.
The 2020 "Best Graduate Schools" rankings bolster national recognition and serve as an indicator of excellence in medical education and training, notes Brooks Jackson, MD, MBA, UI vice president for medical affairs and dean of the UI Carver College of Medicine.
"To be ranked by U.S. News is an acknowledgement of the great work being done by our faculty and staff, and the quality of our students and trainees," Jackson says. "Being nationally ranked also helps strengthen our efforts to recruit and retain faculty members with expertise in research and clinical care, which allows us to provide even greater opportunities and experiences for our learners."
The 28-month PA program at Iowa is unlike any other program in the country. The curriculum is structured so that PA students complete their foundational courses with medical students—a rigorous path of study that also reinforces the real-world collaborations that occur between physicians and PAs as part of a health care team.  
The PA program is highly competitive, with a new class of 25 students entering the program each August. The program receives more than 1,000 applications each year.
The college's PA graduates have consistently performed very well on the National Certifying Examination for Physician Assistants (PANCE). Since 1974, these graduates have achieved a first-time pass rate of greater than 99.99 percent, compared to the national average of 85 percent during this same time period. No UI graduates have failed the exam since 1996. 
In addition, the program at Iowa has consistently been above the national mean on all of the 13 organ systems and seven task areas. For the most recent performance reports of PA graduates, the University of Iowa PA Class of 2018 achieved a 100 percent pass rate, compared to the national pass rate of 95 percent.
Methodology for 'Best Medical Schools' rankings
For the rankings of the best medical schools for research, U.S. News surveyed the 152 medical schools fully accredited in 2018 by the Liaison Committee on Medical Education, and the 33 schools of osteopathic medicine fully accredited in 2018 by the American Osteopathic Association, in fall 2018 and early 2019. Of those 185 schools, 120 responded and provided the data needed to calculate the rankings.
U.S. News surveyed the same 185 schools at the same time for the primary care rankings, and the same 120 schools provided the data needed to calculate those rankings.
Both the research and primary care rankings are based on a weighted average of indicators in areas such as:
Quality (peer assessments from medical school deans, deans of academic affairs, heads of internal medicine, directors of admissions, and residency program directors)
Research activity (total dollar amount of National Institutes of Health funding, averaged over 2017 and 2018, and dollar amount of NIH grants per total full-time faculty)
Primary care rate (percentage of a school's graduates entering primary care residencies in family practice, pediatrics, and internal medicine, averaged over 2016 through 2018)
Student selectivity (median Medical College Admission Test, or MCAT, score of the 2018 entering class)
Faculty resources (ratio of full-time faculty to full-time MD students)
The specialty rankings of family medicine and internal medicine are based solely on ratings by medical school deans and senior faculty from the schools surveyed.
U.S. News also periodically ranks programs in the arts, sciences, social sciences, humanities, and health, which includes PA and PT programs. Before the 2020 rankings, PA programs were previously ranked in 2015. The most recent U.S. News rankings for PT programs are from 2016. 
The rankings for PA and PT programs and other "health schools specialties" as categorized by U.S. News are based solely on the results of peer assessment surveys sent to deans and other administrators and/or faculty at accredited degree programs or schools in each discipline.
Additional details