Grant will fund cancer clinical trials to test high-dose vitamin C
Date: Monday, November 19, 2018
Cancer researchers at University of Iowa Holden Comprehensive Cancer Center have received a five-year, $9.7 million grant from the National Cancer Institute to test the use of high-dose, intravenous (IV) vitamin C in the treatment of cancer.
The integrated project, led by Joseph Cullen, MD, UI professor of surgery, and Douglas Spitz, PhD, UI professor of radiation oncology, is designed to evaluate the feasibility and effectiveness of adding high-dose IV vitamin C to standard cancer treatments for three of the deadliest cancers affecting the U.S. population: pancreatic cancer, non-small cell lung cancer, and glioblastoma multiforme (GBM), an aggressive type of brain cancer. 
"Success in this project would suggest that adding high-dose IV vitamin C to cancer treatment protocols could be a safe, simple, and cost-effective approach to improving treatment for many kinds of cancer," Cullen says. "If the results from our early- and mid-phase clinical trials are positive, the next step would be to test this therapy in large, stage 3 clinical trials that could lead to approval of this approach and have a powerful and lasting impact on clinical cancer care in the coming years."
A long-term commitment to this idea
The UI team has persevered for many years to bring high-dose, IV vitamin C therapy to patient trials. They have often faced resistance and skepticism due to vitamin C's controversial and mixed history as a cancer therapy. The biggest stumbling block has been the underappreciated fact that vitamin C consumed by mouth and vitamin C delivered intravenously lead to vastly different levels of vitamin C in the blood. That difference—a tiny amount from oral consumption compared to very high levels from IV—completely alters how the substance acts on cancer cells.
Starting with experiments on cancer cells in petri dishes and then in animals, UI researchers have shown that high-dose vitamin C is selectively toxic to cancer cells while being relatively non-toxic to normal cells.
Their studies show that this is due to biological glitches in cancer cells that cause them to selectively generate hydrogen peroxide from the high levels of vitamin C (relative to normal cells). Hydrogen peroxide is generally toxic to cancer cells and also makes the cancer cells more sensitive to radiation and chemotherapy. Recent results from clinical trials done by the UI program, as well as others, have shown that combining high-dose IV vitamin C with standard radio-chemotherapy is safe and well-tolerated by patients. These early stage trials also produced encouraging efficacy outcomes, and even suggested that adding vitamin C to the standard cancer therapies reduces the damage to normal tissue through its antioxidant function.
How the grant will be used
The new grant will support three clinical projects:
Investigating whether high-dose vitamin C added to chemotherapy can reduce metastatic disease in phase 2 trials for pancreatic cancer
Investigating whether high-dose vitamin C combined with radio-chemotherapy improves outcomes in patients with late-stage, inoperable non-small cell lung cancer
Tracking the effects of high-dose vitamin C on cancer cells in patients with the brain cancer glioblastoma multiforme using MRI scans 
Integration of the clinical work with basic research will allow the team to determine whether certain biomarkers or functional imaging tests can be used to predict which cancers might be most susceptible to treatment with high-dose vitamin C.
"This project, which has its roots in basic science conducted decades ago at the UI, is a perfect example of bench-to-bedside research that's advancing cancer care for patients," says George Weiner, MD, director of the UI Holden Cancer Center. "At the UI and at Holden, we pride ourselves on exceptional collaboration among physicians and scientists from diverse areas of cancer research. Philanthropic gifts helped our outstanding team of researchers get this work off the ground. We appreciate the essential financial support from the NCI that allows us to take it to the next level."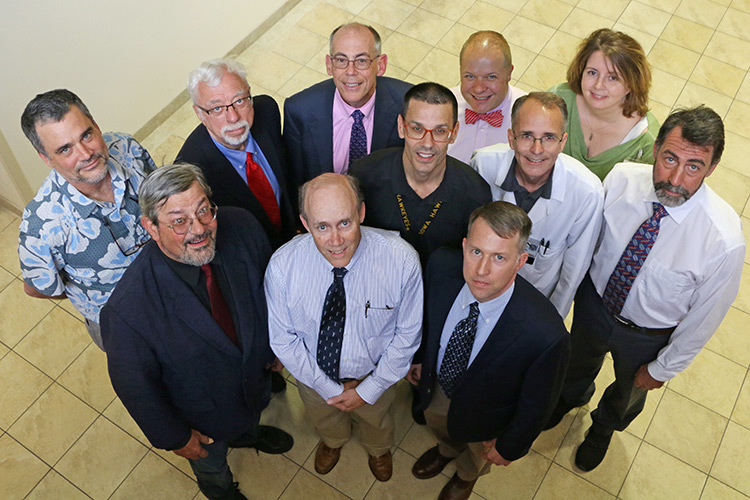 The research team
In addition to Cullen and Spitz, key personnel on the grant include UI the team of Garry Buettner, PhD, Bryan Allen, MD, PhD, John Buatti, MD, Brian Smith, PhD, Daniel Berg, MD, Muhammad Furqan, MD, Michael Henry, PhD, Frederick Domann, PhD, John Sunderland, PhD, Vincent Magnotta, PhD, and Kellie Bodeker, MSHS, CCRC.