Teaching business to future doctors
Date: Thursday, February 16, 2017
Tippie College of Business faculty teach business basics to students in the Carver College of Medicine
A new program at the University of Iowa provides medical students with valuable business training, helping them practice skills they'll need as professionals but aren't apt to receive as part of a medical school curriculum.
The program is a partnership between the Tippie College of Business and the Roy J. and Lucille A. Carver College of Medicine. It evolved from a suggestion by Alan Reed, a professor of surgery who recently completed his business degree through Tippie's Executive MBA Program. Reed says he realized early on during his experience as a business student that a skills gap exists between practicing medicine and the business of practicing medicine.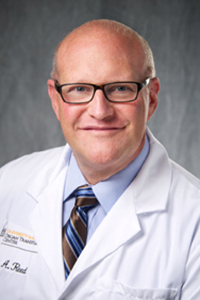 "Only physicians and others who practice on the front lines really understand the implication of policies and payment models and how they affect patients, but these concepts have never been taught well or taught at all in medical school," says Reed. "We send students out of here largely not knowing how they are paid and who pays, the legal ramifications of issues like medical errors, how to build and work in teams, how to run a business, how to negotiate a contract, or much at all about population health, health care delivery, or the business of health care in this country."
Read a Q&A with Reed in Medicine Iowa.
Reed worked with Alexander Taylor, associate director of executive education programs in the Tippie College, to develop the program, and the first course was offered in the spring of 2016. The Distinction Track is comprised of 12 topics that are delivered in block format one Saturday per quarter over the course of a three-year period—roughly the time it takes to complete medical school. Topics include human resource management, marketing, law, negotiations, managerial accounting, data analytics, teamwork, quality, and safety. Once students complete nine courses, each participates in a capstone project guided by a mentor physician.
Students who complete the program are awarded a Certificate in Health Care Delivery Science and Management.
Taylor says interest in the program was strong from the beginning, with 125 applications for 50 initial spots. He says a similar program will be launched in the fall with the College of Pharmacy, and he hopes to partner with other colleges to complement their professional degrees with business leadership certificate offerings.
The next class will be offered Saturday, Feb. 11, when professor of marketing John Murry will explain the basics of health care marketing.