Two medical students win national research awards
Date: Wednesday, November 29, 2017
Abarca on outcomes of soft tissue sarcomas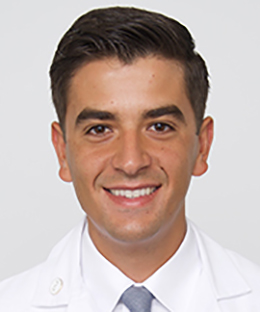 Tyler Abarca, M2, won the Medical Student Section award for Clinical Research at the 15th AMA Research Symposium held Nov. 10 in Hawaii, for his study: "Does Cancer Center Volume Effect Overall Survival in Soft Tissue Sarcoma? A Review of the National Cancer Data Base."
Abarca explored patient outcomes for soft tissue sarcomas (STS) when treated at low-volume centers (defined as fewer than 10 cases annually) compared to high-volume centers.
Using the National Cancer Data Base, he identified 4,760 patients treated surgically for STS. The analysis showed the 5-year survival rate in high-volume centers to be 72.9 percent compared to 67.5 percent in low-volume centers. The study also found higher rates of radiation therapy and better surgical outcomes in high-volume centers. The results of the study support the conclusion that although high-volume centers may present increased logistical challenges, management by a team of experienced specialists could provide real benefits in overall survival for STS patients.
Abarca's mentor this summer was Benjamin Miller, MD, MS, assistant professor of orthopedics and rehabilitation, and the project was funded through an NIH Training Grant.
Goldstein on corneal disease therapies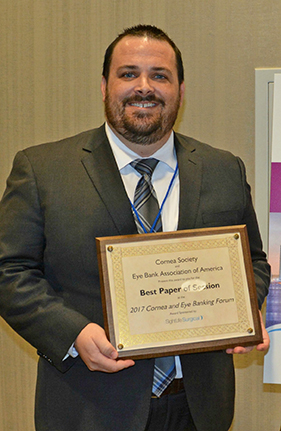 Andrew Goldstein, M2, won the Best Paper of Session Award during the 2017 Cornea and Eye Banking Forum earlier this month in New Orleans, for his presentation: "Assessing the Effects of Ripasudil, a Novel Rho Kinase Inhibitor, on Human Corneal Endothelial Cell Health." The award is given to a medical student, resident, or corneal fellow.
The goal of Goldstein's project was to examine the safety and efficacy of topical rho-kinase inhibitors, which are potential non-surgical therapies for corneal endothelial disease, a major indication for corneal transplant. He used specialized metabolic assays on donor corneas to identify potential drug toxicity, as this treatment had yet to be investigated for safety in the U.S. The study showed that in a laboratory setting there does not appear to be any toxicity with the use of ripasudil, a rho-kinase inhibitor. This research helps to lay the groundwork for future therapies to treat corneal blindness.
Goldstein's research mentor was Mark Greiner, MD, assistant professor of ophthalmology and visual sciences, and the research was performed at the Iowa Lions Eye Bank.
Read more about the Iowa Medical Student Research Program.